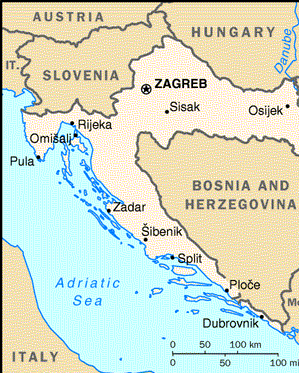 Croatia became part of the Roman Empire in the first Century BC. In 379, it became part of the Eastern Roman Empire. In the sixth century the Croats, who are believed to be a purely Slavic people, migrated from Ukraine and settled in present-day Croatia. In 822, the first state of Croatia was founded. In 1102 Hungary conquered Croatia and a personal union with Hungary was established. In 1526, the Ottoman Empire conquered the area. In 1868 Croatia gained domestic autonomy under Hungarian authority as the Ottoman Empire began to collapse.
After the collapse of Austria-Hungary, Croatia joined Serbia and Slovenia into the State of Slovenes, Croats and Serbs. In 1929, the country was renamed, The Kingdom of Yugoslavia. As a result of the German occupation of Yugoslavia, Croatia was created as an 'independent' state, a German puppet state and named the Independent State of Croatia. It was re-incorporated after the war into Yugoslavia. In 1945, Yugoslavia became a communist dictatorship, led by Joseph Tito. The communists reorganized Yugoslavia in 1963 into a federation of republics. When Tito died in 1980 he was succeeded by a collective presidency.
In 1989 riding a wave of nationalist sentiment, Serbian president Slobodan Milosevic took power. In 1991, after a referendum, Croatia became independent. Conflict between Serbs and Croats in Croatia escalated and one month after Croatia declared independence, civil war erupted. In 1993 Croatia regained one-third of the territory lost the previous year. By 1995 all Croatian territory was taken back and the war ended with an independent Croatia.