The United States

---
While I have traveled extensively outside the United States, I have also traveled at length inside the US. Each region of the US has its own charm and its own history and the people can be quite different from region to region.

---
Places in
Green
are states that I have already traveled to in my lifetime.
Places in
Yellow
are states that I would like to travel to in the next 5 to 10 years.

The
Red
states are places that I have called home at some point, or where I currently own property.
---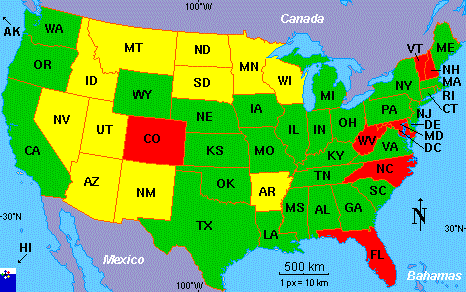 ---
Quotes from Hero's and Historical Figures in American History


"
I refuse to accept the view that mankind is so tragically bound to the starless midnight of racism and war that the bright daybreak of peace and brotherhood can never become a reality.
" Dr. Martin Luther King
"
The challenges of change are always hard. It is important that we begin to unpack those challenges that confront this nation and realize that we each have a role that requires us to change and become more responsible for shaping our own future.
"
Hillary Rodham Clinton
"Human kindness has never weakened the stamina or softened the fiber of a free people. A nation does not have to be cruel to be tough.
"
Franklin Delano Roosevelt
---
United States Links
---



---
This page is maintained by E. Stanton
Last updated in August, 2004
---